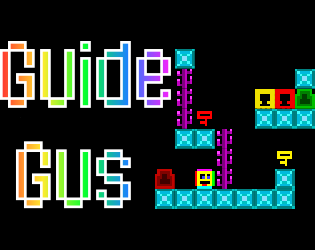 Guide Gus
A downloadable game for Windows
Guide Gus
version 1.1
Info:
This game has a resolution of 64 x 64 pixels. It is part of the #LowRezJam where games must have this resolution.
Controls:
Left Mouse - Place Block / Destroy Block
Right Mouse - place Ladder
S - Suicide (useful if stuck)
W - change game window size (cycle 3 sizes)
F - Fast Forward Toggle
Objective:
You must guide Gus to the exit portal by placing blocks for him to walk on and ladders for him to climb. Gus will walk forever until he bumps into a wall. Make Gus collect keys to unlock locked blocks. Collect extra block tiles and watch out for obstacles.
You can destroy blocks and ladders that you create if you make a mistake. If you get Gus totally stuck, you can press S to restart. Gus only has 1 life, so if he dies, you must start over from level 1. Your highest level is saved and displayed on start screen.
You have a limited amount of blocks to place. Your blocks remaining is displayed at the top right of the screen. Complete levels and collect bonus blocks to increase your block number. Destroying blocks will reduce your block number so plan ahead to avoid correcting mistakes.
Press the F key to toggle Fast Forward. This will make the game run faster. Use it when you ahve amade a clear path for Gus and want to speed him up.
Download
Click download now to get access to the following files: